From idea to completed project
Our company focuses on creating harmonious and enduring garden installations. By taking advantage of our unique knowledge and services, you can be assured of lasting value for your investment.
Our strength lies in developing ideas, offering suggestions and creating and drawing plans which lead to estethically pleasing and self sustaining garden installations.
View before/after by moving the cursor over the image.
We work through the entire project from drawing board to the completed garden installation. In this way we save time, allowing for a continuous dialogue between the architect and customer. Alternations and adjustments can be made within the work process.
Gardens and landscapes are like works of art, expressing simplicity and harmony. Many dream of beautiful and exclusive gardens or surroundings, however, making these dreams come to life demands genuine knowledge and work.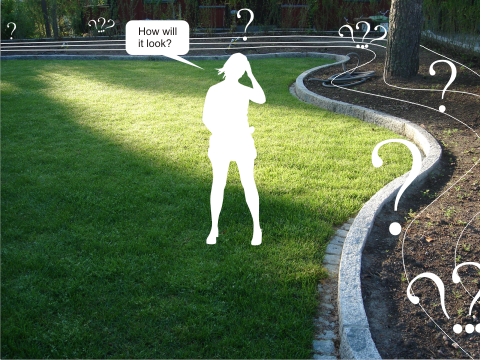 We can help you realize your garden and landscaping dreams and create your own personal oasis filled with beauty and fantasy.
The creation of a functional garden is based on the existing physical environment, the aura and spirit of the location considering the surrounding landscape, buildings, vegetation, light and sound and adjacent activities.
Arkiland Landskapsarkitektur AB was founded  in Uppsala in 1994. Arkiland has completed a range of projects in both the public and private sectors. We work with installing landscapes as well as maintaining them. We also conduct courses in Landscape Architecture.
The founder and creator of Arkiland is architect Dinu Dunca who holds a LAR/MSA. In addition Dinu has an eight year Art school education and holds a degree in Horticulture.
Operation
The company´s operation has four divisions:
planning
installation
maintenance
training
Planning involves taking an inventory of the site, suggesting a program, investigating the physical  attributes of the site, producing complete plans with coloured illustrations, situation plans-, as well as building application for building permits.
We carry out the construction of above ground objects such as brick pavement, walls, water elements and automatic watering systems, wood constructions, plantings and garden furnishings. The visible elements of the garden are of great importance as they give it it´s sense of expression.
We use a range of materials such as stone, concrete, brick, steel, wood and plants, as well as sod and succulent sheets:














We also renovate existing gardens by making additions and changes involving adding vegetation, pruning, rejuvenating, hedge and topiary trimming, watering and fertilizing. In addition, we work with interior installations.
Our company holds courses covering the areas of planning, installation and maintenance of the garden and landscape.
Arkiland also accepts students studying landscape architecture and gardening who need practical experience as part of their degree.